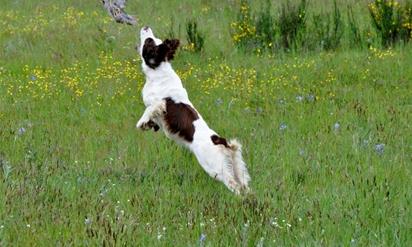 During the Western Washington Spring trial. Scott Mason and Dakota got first in the Amateur and a second in the Open stake. Barb Defalco and puppy Cato got forth in the puppy stake. The club Cockers just keep placing.

Jon Beernick and Heidi got third at the Inland Empire 2019 spring trial. The placements just keep coming for Heidi.




In Waller, Texas, Scott Mason and his daughter's (Alexandra) dog Dakota won both the Open and Amateur trials. That is almost unheard of.....way to go Scott and Dakota. Russ Pool and Trixie got fourth in the same Amateur trial.

We had several club members qualify for the Nationals in their respective breeds. To qualify for the Nationals you have to receive a specific number of placements during the year. This year during the Cocker Nationals in South Port, New York, Russ Pool's Trixie handled by Dan Murray of Absolute Gun Dogs from Bismarck, N.D. got forth place. This is amazing since they were competing against 89 of the best dogs in the nation.
​Rick Kemmen and Donald (the dog, not the duck!) took the forth place ribbon home from the Inland Empire 2018 fall trial. This was a great accomplishment for a very young dog.

During last fall's Hunt test we had three club titles awarded. Lynn Winchester's Sky received a Junior title. Tom Morgan and Ziva received a Senior title and Kathy Stermolle's Jim also now has a Senior title. All three are young dogs. Way to go!